Magnetic Sand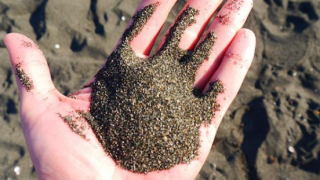 The Black Sea Magnetic Sand is known since the 19th century. Initially, the unbelievable properties of this sand have been identified by local residents who have been able to easily and easily cope with various chronic diseases. These phenomena were interested in doctors, researchers, research institutes who analyzed the magnetic sand mechanism.
The science of many countries has a positive effect on the magnetic field on the human body. The chemical and biological processes in the human body are influenced by the magnetic field, the magnetic field reveals the anti-inflammatory, anti-inflammatory effect and stimulates tissue regeneration
There are several natural and physical factors - sea climate, warm sand bath and small intensity magnetic field in Ureki relaxation and treatment of human organism. All this creates the best conditions for recovery and relaxation.
Magnetic sand spas are mainly used for bone-joints, peripheral nervous system, diseases, and rickets. In the case of children, magnetic sand baths are taken when they have diseases of the congenital bone system. Also in case of schizophrenia, lortosis, kyphosis and other defects.
The sea, with its complex, is the strongest recreational factor. It is of great importance to the proper treatment of spa treatments. Especially in the sea conditions. Solar rays are the most natural and natural factor. Their range is very strong
An example of physiological adaptation of the organism is acrimatization - first of all we should know that people can become acrimatized as long as they travel in their own country. The longer the person lives from the place where it is going to visit, the greater the probability of the reaction of the organism to the expected changes.
Symptoms of acrimatization can often be associated with bad mood-mood, cooling, poisoning or sunbathing.